The hosiery and footwear supply chain restarts from FIMAST
FIMAST closed its doors by turning the spotlight back on the entire hosiery and footwear production chains and bringing the major players in the sector to the event.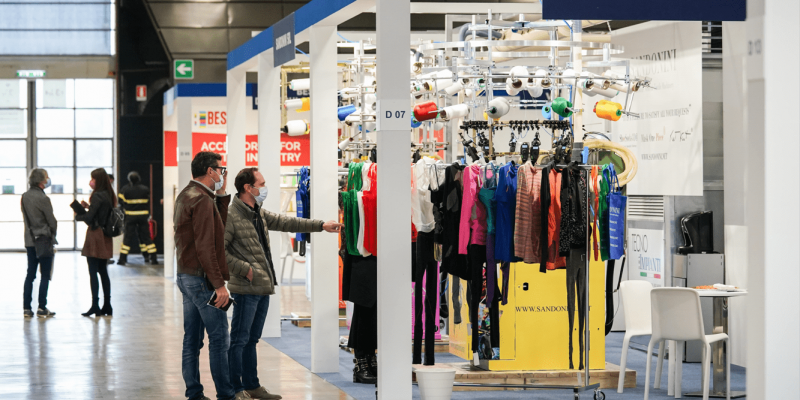 At the end of the first edition of FIMAST, which closed today at Brescia Brixia Forum, optimism for the recovery of the sector emerged as well as the desire to meet again in physical presence and the great ability to adapt to the global context changed by the pandemic.
The B2B event has rekindled the spotlight on the hosiery and footwear supply chain, bringing to the event the sector major players, brands and excellence of the territory that bring together the two main districts of the textile industry: the Brescia one, centred on textile machinery with the production of machinery, components and accessories, and the one of Mantua, linked to the production of yarns and hosiery factories.
FIMAST was also an opportunity for the world of accessories and sports and technical clothing to meet. Designers, product and production managers from the world of 3D footwear, sportswear and technical hosiery discussed topics relating to technological innovation as well as to the product development possibilities that technologies presented at the show offered.
The theme of responsible innovation, around which the entire project of IEG's new FIMAST revolves through the first-rate partnership with C.L.A.S.S., captured the attention of visiting operators, who are increasingly attentive to the needs of consumers in terms of sustainable and ethical products.
FIMAST also brought to the show a qualified audience of visitors from all over Italy, and for a percentage of 20% also from abroad representing 28 countries. Among these 75% from Europe, 14% from Turkey and 11% from the rest of the world, in particular Argentina, South Africa and Russia, marking a point of change for the reference business community and laying the foundations for the restart of the textile machinery production districts.
During the four days of the event, carried out in complete safety thanks to the SAFE BUSINESS by IEG protocol, international experts from the sector met in a panel of conferences, seminars and events designed to face the challenges of the present and the future. Sustainability, the importance of training, technological innovation, digitalization of companies and production processes were at the centre of the meetings that saw the presence of central partners for the hosiery and footwear supply chain: CLASS, Assosport, Centro Servizi Impresa (CSC) and of the Socks and Underwear District Association (ADICI).